2017/2018
Cie Onyrikon & Samson Ogiamien (FR/AT)
Iyagbon Below (Tryout)
Was haben der heimische Krampus, nigerianische Edo-­Masken und die Teufelstänze auf Sri Lanka gemein? Magisches Denken, Mythen und Volksweisheiten, gemischt mit den Kräften der Natur und dem Bedürfnis der Menschen nach Wundern. Das französische Körper- und Maskentheater Onyrikon und der in Graz lebende nigerianische Künstler Samson Ogiamien zele­brieren diese "Rituale" in ihrer Musik­ und Tanzperformance. Das Publikum wird mitgenommen auf eine Traumreise zwischen Schönheit und Schaurigkeit: Unmittelbare Begeg­nungen mit Masken, Geistern und Zwergen sind möglich.
Information
Die Künstler arbeiten während La Strada in Residence an dieser Koproduktion, die 2019 zur Uraufführung gelangen wird. Am Freitag, den 3. August, hat das Publikum die Möglichkeit, an den zwei öffentlichen Probenparcours teilzunehmen. Zählkarten hierfür erhalten Sie bei Graz Tourismus und im Ticketzentrum. Der Startpunkt und die Beginnzeit werden auf den Zählkarten bekannt gegeben. (Empfohlen ab 12 Jahren)
In Kooperation mit Jugendlichen mit verschiedenen kulturellen Hintergründen und mit dem Edo Cultural Art Forum
Mit Unterstützung von
Lehrer und Koordination:
Katrin Jentl und Waltraud Stocker, ISOP Lehrerin Heidelinde Hutter, Koordination Dobl.
Jugendliche:
Bahar MARUF,  Mojtaba KHANI, Nasratullah KHANI, Wais SEDEKI, Reza HAIDARI,
Hafizolah MIRZAI, Murtaza JAFARI, Ismahil NAHIMI, Anwar SAIDI, Morteza SADEGHI, Osman Samiullah, Parisa Sayedi, Sahar Saedi, Samuel Ndidi.
Cie Onyrikon & Samson Ogiamien (FR/AT)
Iyagbon Below (tryout)
What do the local "Krampus" figure, Nigerian Edo masks and Sri Lankan devil's dances have in common? Magical thinking, myths and folk wisdom, blended with the power of nature and people's need to wonder. The French physical and mask theatre troup Onyrikon and Graz-resident Nigerian artist Samson Ogiamien celebrate these "rituals" in their music and dance performance. The audience is spirited away on a dream journey between beauty and horror: close encounters with masks, spirits and dwarves are possible.
Information
Being in residence during La Strada, the artists are working on this co-production, which will be premiered in 2019. On Friday August 3rd, members of the public have the opportunity to take part in a public rehearsal exercise. For this you can obtain numbered tickets at Graz Tourismus and at the ticket centre. The starting point will be stated on the numbered tickets.Tickets soon available
In Cooperation with youths from different cultural backgrounds as well as the Edo Cultural Art Forum
with the friendly assistance of ISOP GmbH.
Teachers and coordinator: Katrin Jentl und Waltraud Stocker, teachers in ISOP
Heidelinde Hutter, coordinator Dobl.
Youth group:
Bahar MARUF,  Mojtaba KHANI, Nasratullah KHANI, Wais SEDEKI, Reza HAIDARI,
Hafizolah MIRZAI, Murtaza JAFARI, Ismahil NAHIMI, Anwar SAIDI, Morteza SADEGHI, Osman Samiullah, Parisa Sayedi, Sahar Saedi, Samuel Ndidi.
2015/2016
Akugbe-Gemeinsam "Yaruya, here we are"
Ein künstlerischer Austausch zwischen Österreich und Nigeria
Samson Ogiamien beschäftigt sich in seiner Kunst mit der Erfahrung und der Herausforderung, gewollt oder gezwungen  seine Heimat zu verlassen, und mit dem Versuch, in der Fremde eine neue Heimat zu finden und trotz allem eine neue Zukunft aufzubauen.
2008 schuf er die Skulptur "Stranded", die er im Rahmen des Straßen- und Figurentheater-Festivals La Strada auf Heimatsuche schickte. Die Skulptur "Stranded" umarmt einen Sack voller Erfahrungen, Erinnerungen, Talente und Traditionen.
Diese Skulptur sowie Samson Ogiamien haben in der Steiermark eine neue Heimat gefunden und haben das Mitgebrachte all die Jahre nicht vergessen. Nun ist es Zeit, diese Erfahrungen, Erinnerungen, Talente und Traditionen auszupacken, an die nächste Generation weiterzugeben und mit anderen zu teilen.
Im Rahmen des neuen Projektes mit dem Titel "Akugbe-Gemeinsam, Yaruya, Here we are" möchte Samson Ogiamien das Vorprojekt "Agony of the Beloved" noch einen Schritt weiterführen. Dieses Mal möchte er in Österreich und in Nigeria arbeiten.
In Österreich soll mit der Ortweinschule Graz - Meisterschule und der Berufsvereinigung der Bildenden Künstler Österreichs zusammengearbeitet werden, in Nigeria mit den königlichen Bronzegießern Igun Eronmwon in Benin City, Nigeria.
Kooperation mit dem Universalmuseum Joanneum
Aufgrund einer Kooperation mit dem Universalmuseum Joanneum findet im Rahmen des Projekts eine Ausstellung im Kunsthaus Graz von 05.05.-02.06.2016 10:00-17:00 statt. Eröffnung 04. Mai 2016, 19 Uhr. mehr
mit Unterstützung von:
sowie
The National Commission of Museums and Monuments, Nigeria
Embassy/Permanent Mission of Nigeria Vienna, Austria.
Akugbe-Gemeinsam "Yaruya, here we are"
An Artistic Exchange between Austria and Nigeria
Samson Ogiamien's art deals with the experience and the challenge of leaving one's home willingly or unwillingly, trying to find a new home abroad and creating despite all obstacles a new future. 
In 2008 he created the sculpture "Stranded", which he sent looking for a home in the frame of the Streetart and Puppettheatre Festival La Strada in Graz, Austria. The sculpture "Stranded" embraces a bag filled with experience, memories, talents and traditions. For Ogiamien, these are means of survival, which he seeks to make tangible and pass on to others through his art. This sculpture as well as Samson Ogiamien have found a new home and despite all they never forgot what they brought along. Now it is time to unpack these experiences, memories, talents and traditions and pass them on to the next generation by sharing them with others. 
With his new project, entitled "Akugbe-Gemeinsam, Yaruya, here We Are", Samson Ogiamien will take his work a step further, literally traversing the distance between his adoptive home in Austria and his homeland. He plans to return to Nigeria for this project, working in collaboration with artists in both locations: in Austria, with the School of Art and Design Ortwein Graz and the Austrian Association of Professional Artists; and in Nigeria, with Igun Eronmwon, the Royal Bronzecasters Guild of his hometown, Benin City. In the last phase of the project, he will bring his collaborators together in Austria for a series of workshops promoting the sharing of knowledge and the celebration of Benin cultural heritage.  
Cooperation with the Universalmuseum Joanneum
Due to a cooperation with the Universalmuseum Joanneum there will be an Exhibition in Kunsthaus Graz from 05.05.-02.06.2016 10:00-17:00. Opening: 04.05.2016, 7 pm more
supported by

as well as
The National Commission of Museums and Monuments, Nigeria
Embassy/Permanent Mission of Nigeria Vienna, Austria.
2015
Visions of Life
Samson Ogiamien und Theatre Fragile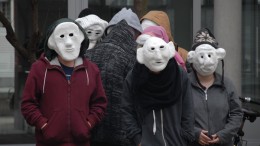 Bildhauerei, Maskentheater und junge Menschen aus unterschiedlichen Kulturen treffen aufeinander: "Visions of Life" ist ein Konzept Samson Ogiamiens, mit dem der nigerianisch-steirische Künstler Jugendlichen die Möglichkeit geben will, ihre Visionen und Pläne auf künstlerische Weise zum Ausdruck zu bringen. Gemeinsam werden in mehreren Workshops Masken erarbeitet, die die Jugendlichen – begleitet und unterstützt vom Stefanie Oettl und Regieduo Marianne Cornil und Luzie Ackers des "Theatre Fragile" – selbst zum Leben erwecken. Da wird es im öffentlichen Raum mal behutsame, mal rasante Begegnungen geben, werden Wurzeln verstanden und Visionen entwickelt – und einst starre Masken plötzlich lebendig.
Eine Koproduktion von Samson Ogiamien und Theatre Fragile mit La Strada Graz In Kooperation mit ISOP – INNOVATIVE SOZIALPROJEKTE.
Visions of Life
Sculpture, mask theatre and young people from various different cultures encounter one another: "Visions of Life" is a concept by Samson Ogiamien, through which the Nigerian-Styrian artist wants to give young people the chance to express their visions and plans by means of art. Together in several workshops they will produce masks, which the youngsters will then bring to life with the help of Stefanie Oettl and director-duo Marianne Corniel and Luzid Ackers of "Theatre Fragile". Then public space will be the stage for sometimes subtle and sometimes speedy encounters, roots will be understood and visions developed – once rigid masks come to life.
A co-production between Samson Ogiamien and Theatre Fragile with La Strada Graz
In co-operation with ISOP – INNOVATIVE SOZIALPROJEKTE.
With the support of the city of Graz, region of Styria and the Austrian society for political education.
© http://www.lastrada.at/

mit Unterstützung von:
Programm La Strada ; Artikel im Megaphon_7_15_2
Frühere Kooperationen:
La Strada: Stranded.dt 2008 ; RE:Locations 2011
ISOP GmbH: Ohne Angst verschieden sein, Regionale 2008
2010/2011/2012/2013
Agony of the Beloved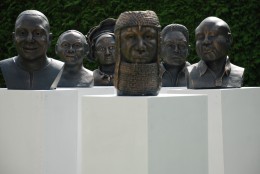 Samson Ogiamien: "In meinem Projekt 'Agony of the Beloved' habe ich mich mit unserer afrikanischen Tradition, den Toten zu gedenken, nachdem unsere Liebsten von uns gegangen sind, auseinandergesetzt. Die Tradition, der verstorbenen Könige im Königreich Benin in Nigeria zu gedenken, entstand mit Ende der Ogiso-Dynastie.
Oba Ewedo war der erste König/Oba des Königreichs Benin, der nach seinem Tod durch eine bronzene Gedenkbüste geehrt wurde. Nach seinem Tod wurden Gedenkbüsten aus Bronze, die den Oba repräsentieren, im Palast aufgestellt. 1897 fand das sogenannte  Benin-Massaker statt, bei dem die Briten den Palast des Oba/Königs plünderten. Nachdem der Oba/König Ovboramwen no gbiase nach Calaba deportiert worden war, wurden die meisten bronzenen Gedenkbüsten und andere bronzene Skulpturen aus dem Palast entwendet und sind seitdem in verschiedenen Museen der Welt verstreut." Diese Ehre des Gedenkens wurde im Königreich Benin allerdings nur Personen der höheren Gesellschaft erwiesen.

Samson Ogiamien bediente sich für "Agony of the Beloved" dieser Erinnerungskultur, um jener zu gedenken, die aufgrund ihrer Lebenssituation keine respektvolle Beisetzung und Verabschiedung nach afrikanischer Tradition erfahren haben. Als Mahnmal und gleichsam als Darstellung der traditionellen Gedenkkultur des Königreiches werden die sechs Büsten des Projekts "Agony of the Beloved" von einem Königsporträt begleitet.
"Agony of the Beloved" ein Film von fritz Aigner  in einem "barriereFREI"-Spezial
Agony of the Beloved
Samson Ogiamien: "In my project Agony of the Beloved I focused on our African culture and tradition to commemorate the death of our beloved ones who passed away. The commemoration of the Kings in Benin Kingdom, Nigeria started after the Ogiso Dynasty.  
After the death of Oba Ewedo in 1280 the first bronze bust was made to commemorate his death. Since then commemorative heads casted in bronze, which represented the Oba himself, were placed in the Oba's palace. In 1897 the Benin Massacre took place in which the British sacked the Oba's palace. Most of the commemorative heads and other bronze sculptures were stolen after the deportation of Oba Ovboramwen no gbiase to Calaba and can now be found in museums all over the world. This honour of commemoration was usually only conferred to members of the royal family in Benin Kingdom.  
Samson Ogiamien made use of this tradition in order to commemorate those that due to their living conditions were never payed the deserved respect and never experienced an honourable funeral as it is common in African tradition. These six busts of the project "Agony of the Beloved" are accompanied by the commemorative head of an Oba referring to the tradition of commemorating our beloved ones as well as serving as a memorial."
Creative together in Diversity!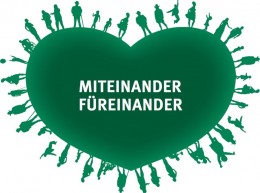 Die Skulpturenworkshops "Creative together in diversity!" sind eine mögliche Brücke zwischen verschiedenen Kulturen. Im Rahmen dieser Workshops gebe ich Kindern und Jugendlichen die Chance, kreativ zu sein und durch Kunst Barrieren abzubauen, um sich mit der eigenen und der fremden Kultur auseinanderzusetzen.
Der Workshop findet am 18.08.2015 ab 16:00 im Atelier Osioru Art statt. Komm vorbei und sei kreativ!
Präsentation und Sommergartenfest "miteinander feiern füreinander präsentieren"
Am 19.08.2015 ab 16:00  kannst du gemeinsam mit deinen Eltern an einem Workshop teilnehmen und deine Werke präsentieren. Nach dem kreativen Schaffen feiern und grillen wir gemeinsam. Ich freu mich auf euer Kommen.
mit freundlicher Unterstützung von: